HIGH QUALITY

ACRYLIC

DOG SERVICE TAGS
For those that have a service dog and are looking for an affordable and easy way to customize their tag. The two-sided acrylic tags are top sellers. You can easily upload your photo and fill in your information. If you need any help with customizing, please contact me.
Two-Sided Acrylic Service Dog ID Tags $10.90 Each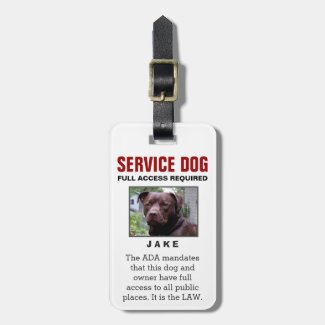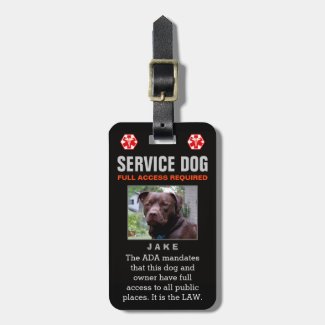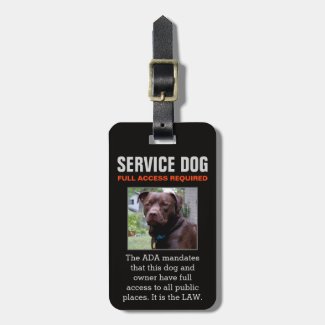 The front is customized with your dog's name and photo and includes the following text:
SERVICE DOG, FULL ACCESS REQUIRED. The ADA mandates that this dog and owner have full access to all public places. It is the LAW.
The back is customized with the owner's info and includes the following text
:
I AM A SERVICE ANIMAL MY RIGHT TO ACCOMPANY MY HANDLER IS PROTECTED BY FEDERAL LAW. Refusal to provide equal access to people with disabilities with service animals is a federal civil rights violation, provided by the American Disability Act of 1990. Questions? Call the ADA 1-800-514-0301 an agency of the US DEPT OF JUSTICE Civil Rights Division
Dimensions: 2" x 3.5" (standard business card size)
Made of ultra-durable acrylic
UV resistant and waterproof
Made of ultra-durable acrylic
Leather strap included
Printed on both sides
"Loved this product!"
Susan
reviewed
reviewed Service Dog - Full Access Required Badge 3/23/2016
---
Product Quality:
Excellent,
Print Quality:
Excellent,
Recommended:
Yes,
Shipped on time:
Yes
---
I am so pleased with how my dogs tag turned out! I will use it for travel and also just day to day identification. I most definitely will be ordering again!
---
About the print:
Crystal clear and very professional.