Looking for a little spooky elegance? Summon your guest's presence with this spooky but fun Halloween party invitation. Lot's of room for your party information on the back.
Purchase Your Presence Summoned Party Invite
GOTHIC INSPIRED DESIGN
This design includes my watercolor work and a great border that sets of the invitation in tones of gold with just a hint of red for blood stains, which makes this great fun for Halloween!
PURCHASED DIRECT THROUGH ZAZZLE
$2.26 Per Invite (rounded corners) $2.06 (square corners)
discounts start with orders of 25+
As with all my invitations, these are available thru Zazzle and are easily customized and ordered online. For those not familiar with Zazzle, they are a top print on demand store (POD) and their products are top-quality. They promise 100% satisfaction, what more could you ask for?
LOOKING FOR A GREAT DEAL?
The great thing about Zazzle is that they
always
have a sale going. PLEASE BE SURE to check the
coupon page
. If you always keep an eye on their coupons you are sure to find a sale on invitations, sometimes up to 40% or 50% off...It truly pays to watch.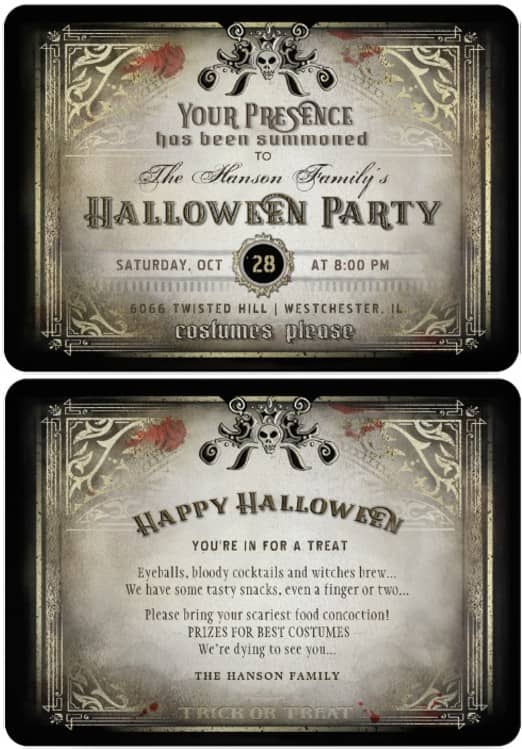 As always, if you need any help customizing, please feel free to contact me at
[email protected]
or please use the contact form. The easiest way is to provide me all the text in an email exactly as you would like it to appear and I can send you a link to your custom invitation.
SEE ALL HALLOWEEN INVITATIONS