Julie Alvarez Designs
SHOP THE ART & DESIGN OF JULIE ALVAREZ
My Top Picks for Halloween Invitations at Zazzle
Choosing your Halloween party invitations is all about your theme. From spooky, to Halloween cocktails, to family fun or just an elegant creepy party, you are sure to find what you're looking for at Zazzle. As a designer at Zazzle who specializes in Halloween, I like to showcase some of the designs that may get your Halloween party off to the right start.
Booz & Brews Cocktail Party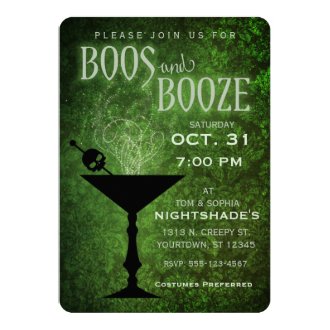 This invite is a simple yet great Halloween design that hits the nail on the head for the theme of a Halloween cocktail party. This 5" x 7" invite is easy to customize online and is $2.36 per card at Zazzle...remember, discounts start at quantities of 25 and up.
Purple & Black Zombie Party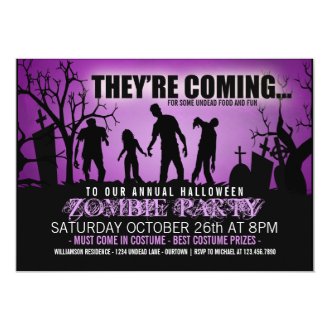 This purple and black Halloween zombie party invitation is perfect for those looking for a theme for their annual party. This 5" x 7" invitation is $2.16 per card.
Orange & Black Costumes and Cocktails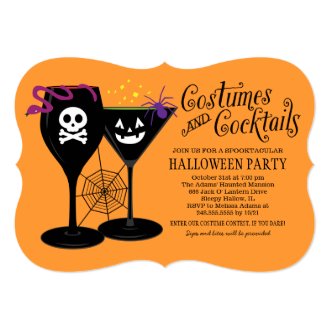 Costumes and cocktails anyone? This card is classic for its orange and black design and makes a great invite to any party. This 5" x 7" invitation is $2.26 per card.
Spirits Halloween Party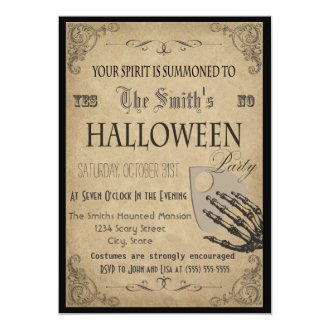 Just a classic ouija board style party invitation summoning the spirits to your party and is $1.95 per 5" x 7" invitation.
Wicked Good Time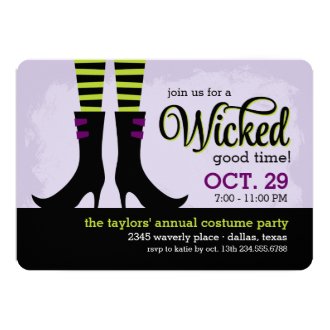 A modern and cute witches boots invitation that promises a wicked good time. Nice and simple design, this 5" x 7" invitation is $2.36 per card.
Flying Witch Halloween Party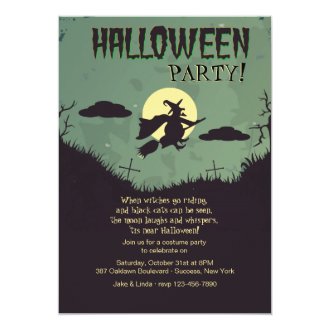 If a witch fits your Halloween theme, this makes a nice scary Halloween party invite. This 5" x 7" invitation is $2.06 per card.
They promise 100% satisfaction.
If you don't absolutely love it, they'll take it back!
30-Day Money Back Guarantee
Your information is secure while shopping on Zazzle.
SSL secured servers are tested daily.
Purchasing Customized Invitations at Zazzle
Zazzle is a leading provider for products customized on demand. They have a great site that you can preview your items
before
you purchase and they offer top-quality products. Zazzle
always
has a great sale on something. Once you preview your item, you can add it to your cart and place your order, be sure to
check the coupons first! After you place an order, Zazzle handles the service, shipping and tracking of that order. You can find Zazzle's info on my
contact page.
All Cards Come with a Standard White Envelope
All cards come with a standard white envelope. If you purchase matching envelopes you would still receive the standard white envelopes with your order.
Discounts Start with Orders of 25 or More
There is never a minimum quantity to order, you can order just one if you like, but Zazzle offers some great discounts starting with orders of 25 or more. Also, always remember to check their
coupon codes
for deals on invitations or photo cards (they always have some great sales going). See below for their discount breakdown:
Two-Sided 5 x 7 Invitation Style Cards
25 invites. (Save 15%), 50 invites. (Save 25%), 100 invites. (Save 40%),
250 invites. (Save 45%), 500 invites. (Save 45%), 1000+ invites. (Save 50%)


Zazzle Free Shipping Trial
Did you know that Zazzle offers a 30-day free trial for free shipping? That means when you checkout, you sign-up for the Zazzle Black Standard free trial offer and then cancel before your 30 day free trial period ends, and you will get free shipping on your purchase. If you do not cancel, after 30 days they will charge you $9.95 annually and you will have free shipping for the entire year (which is a great deal if you plan on ordering more from Zazzle). For more about Zazzle's free shipping offer,
click here
.