Halloween Wedding Custom Place Cards
Halloween Wedding Folding Place Cards
Halloween Wedding Place Cards
3.5" x 2.5" Cards 100 pack $23.70
These are blank cards that you can easily write on and come in handy for last minute details.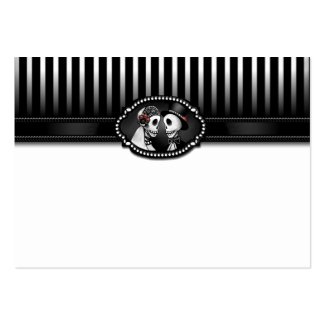 Halloween Black & White Skeletons BLANK Place Cards
They promise 100% satisfaction.
If you don't absolutely love it, they'll take it back!
30-Day Money Back Guarantee
Your information is secure while shopping on Zazzle.
SSL secured servers are tested daily.
"GREAT" Black & White Skeleton Folding Place Cards
Sandi
reviewed
Halloween Skeleton Black White BLANK Folding Place
---
Product Quality:
Excellent,
Print Quality:
Excellent
Recommended
: Yes,
Shipped on time:
Yes
---
These were perfect. Our daughter is having a halloween wedding so these escort cards are perfect. The color is spot on. We were going to make our own but when we saw these which could be folded it was perfect.
---
About the print:
We didn't have ours printed with any names but the design of the card is absolutely brilliant. They are black, gray and white with a smudge of red in the cameo picture of a skeleton bride and groom.
Customizing Place Cards with Your Guest's Name
You can print the name and table (optional) of each guest on the template designed for folding cards. You will need to type in the info, then select QUANTITY one (1) and add each one to your shopping cart individually. When you are done you will have a card for each guest in your cart.
2.5 x 3.5 Inch Cards:
The smaller blank cards are sold in packs of 100 only and cannot be individually customized with guest information.
Zazzle Free Shipping Trial
Did you know that Zazzle offers a 30-day free trial for free shipping? On checkout just sign-up for the Zazzle Black Standard free trial offer and then cancel before your 30-day free trial period ends, and you will get free shipping on your purchase. If you do not cancel, after 30 days they will charge you $9.95 annually and you will have free shipping for the entire year (which is a great deal if you plan on ordering more from Zazzle). For more info,
click here
.
Shop Zazzle Halloween Invitations